A Few Words About Us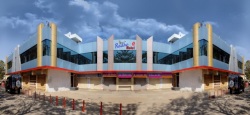 Hearty hospitality has always remained one of the most valued fine traditions of the Indian culture. A guest visiting an Indian home is always considered to be a representative of God.
We gladly welcome you to Radhe Motel, situated in the city of Kutch, Mandvi has a very pleasant climate throughout the year and was a summer retreat of the Kutch maharajas (kings). Successfully blending rich heritage with contemporary style, we provides an exceptional setting for business and eco tourism.
Luxury is the key note of our hotel, in comfort and style. Along with the latest facilities and business systems it is the preferred place for the guests visiting Mandvi. Our Hotel offers well-equipped 21 Rooms featuring Air-condition, LCD TV and luxurious bathroom facilities in all rooms with fresh airy corridors. The rooms leave indelible impression on you long after your departure; such is the elegance of our specially chosen furnishings.
We don't compromise with our quality and hospitality. We would love to have you as our valuable guest and we shall be highly privileged to serve you. We expect your footsteps to enhance our hotel very soon.